See Real Artists at Work in the Art Zoo! Art Zoo breaks down the barriers between artists and audiences.
Art Zoo is part performance, part installation, and part living sculpture. It is an absurdist event that will give visitors to the Harris a glimpse into the exciting and vibrant world of the artist and see how they work.
Art Zoo took place at the Harris Museum and Art Gallery on the 26th May 2018 and was a great success. Tours of the Harris were lead by the fantastic Stephanie Cottle as the Art Zoo, Zoo Keeper. Some of the specimens that she introduced the visitors to are featured below.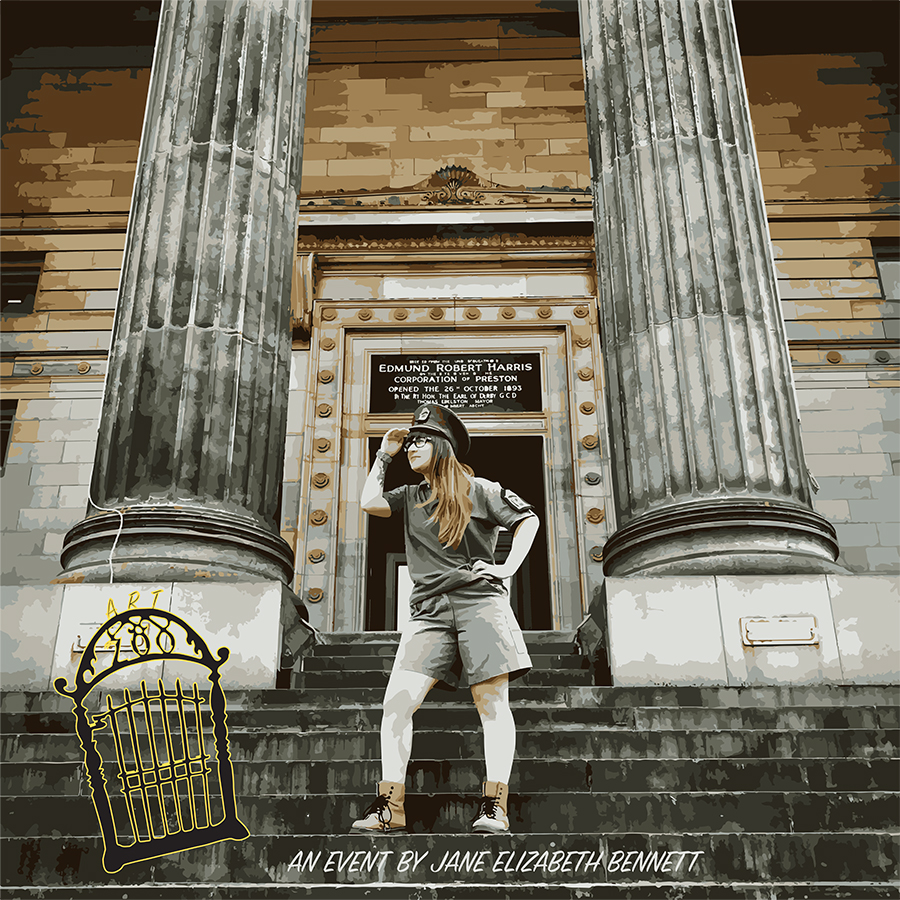 Lubaina Himid – Painter (artifex arbitrium laureola)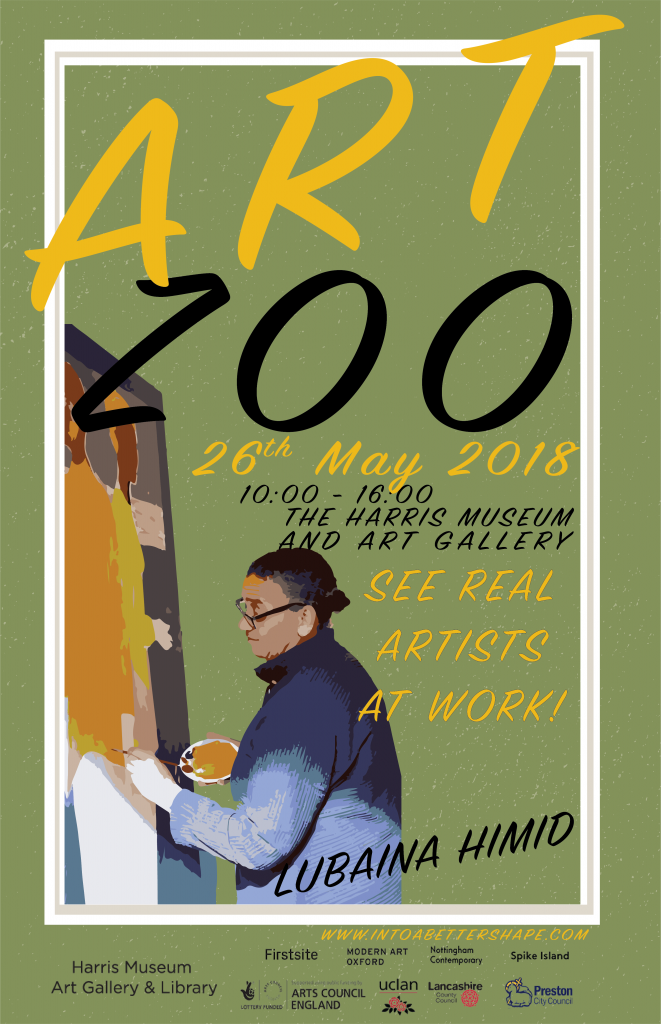 'Himid makes paintings, prints, drawings and installations which celebrate Black creativity and the people of the African diaspora while challenging institutional invisibility. She references the slave industry and its legacies, and addresses the hidden and neglected cultural contribution made by real but forgotten people. In Naming the Money 2014, 100 cut-out life size figures depict Black servants and labourers who Himid individualises, giving each of them a name and story to work against the sense of the powerless mass. She often takes her paintings off the gallery wall so that her images become objects that surround the viewer. Whether working on Guardian newspapers or directly onto porcelain tableware, Himid continually subjects painting to the material of everyday life in order to explore Black identity.' Taken from www.tate.org.uk
Some interesting facts that Lubaina shared with us at the art Zoo are
Jacksons in Liverpool makes all Lubaina's canvases and have done for 30 years.
Lubaina's perfect painting day is starting at 5.30am and painting till 9am then again at 2.30pm till 5pm
That artists only live in London
That making Art is fun.
Kathryn Poole
 – Lithographer (procer ex mortuis animalibus artifex)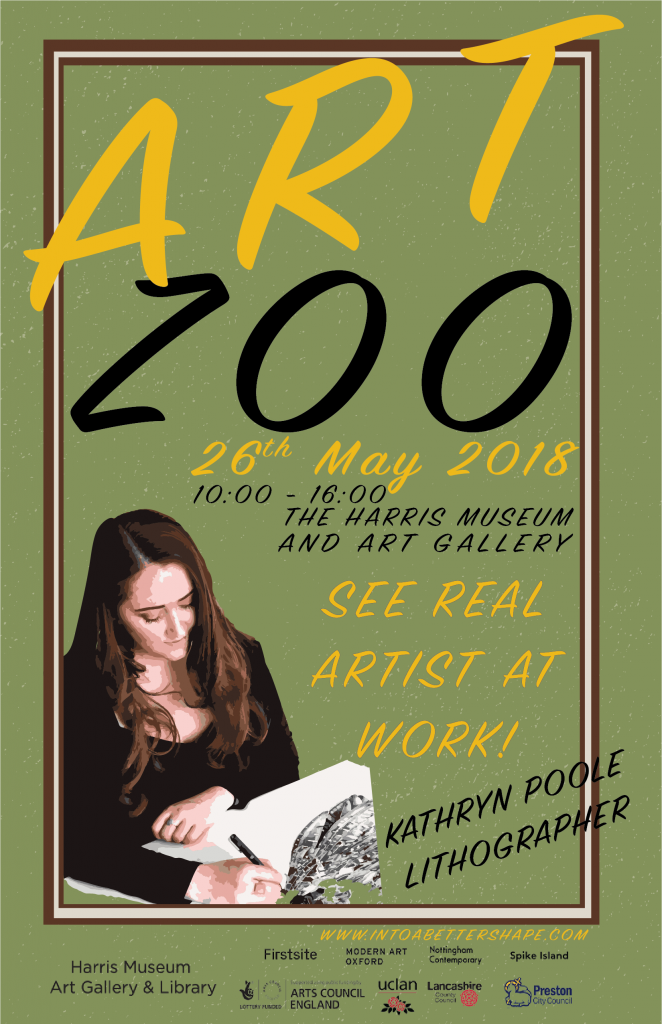 Kathryn's practice engages with the idea of 'memorial'. Through her work, she examines the intimate relationships that she has with death and the traces that are left behind by life.
Lithographers walk a fine line between social and solitary and travel great distances to meet with other lithographers, but primarily work alone. Lithographers are part of the printmaking family and are known to hoard 'things'.
'The printmaker hordes paper offcuts like a dragon hordes gold. They never know when they may need that 3mm strip of beige card.'
Be careful making noise around Kathryn as she can become so engrossed in her work that she is easily startled. Flash photography is not advised.
Jack Woodward (Artifex Institutionem Gingiber Sine Macula)
Jack Woodward is part of the sculpture and installation family and his specific genus is 'Artifex Institutionem Gingiber Sine Macula'. Sculptors and installation artists are well known for expanding their territories if left unchecked. In Jack's own words;
'It will expand its territory if left unsupervised to the point where everything becomes its habitat.'
During Art Zoo Jack will be making an interactive installation, why not help him out and get involved, he is by nature a very social and engaging artist.
Tina Dempsey (Aliquam ultrices scelerisque artifex)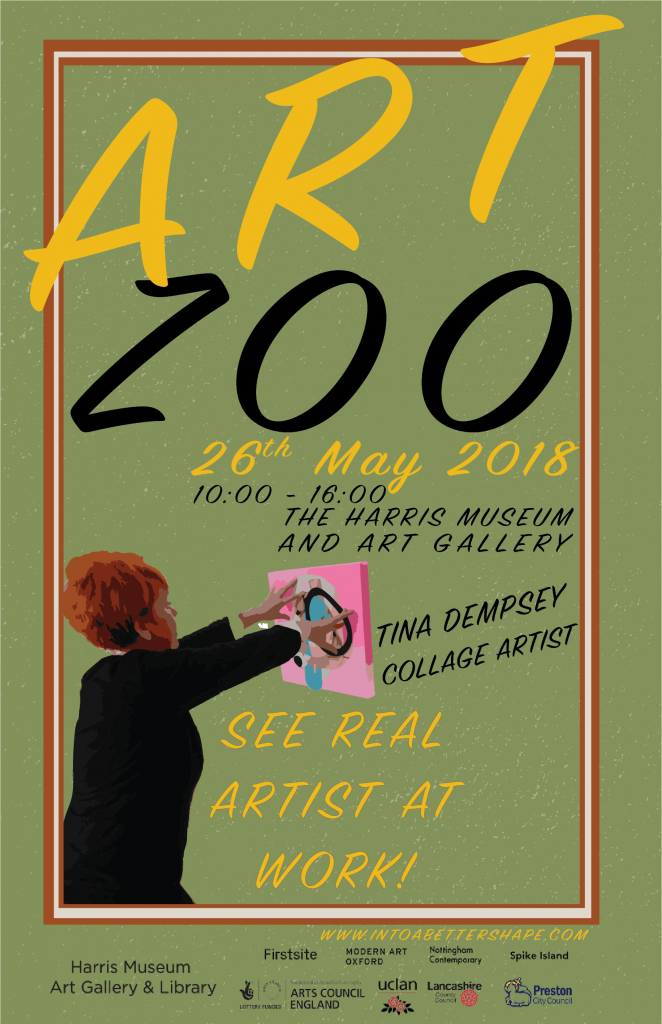 Tina Dempsey is an artist that works effortlessly across a number of mediums, including collage, photography, and installation.
'By dismantling, constructing and re-assembling of information via collage, sculpture, and photography, aims to interrupt the semiotic landscape via a series of creative interventions, generating an opportunity for imagery, colour, and language to develop new identities and meaning.'
As an artist, Tina is a social creature with a sprawling territory, making work from multiple locations with numerous other artists. During the Art Zoo Dempsey will expand her habitat into the Costumes and Textiles Gallery and making work that responds to the colours, textures, and histories of the collections.
Approach Tina Dempsey slowly and with a gift of crisps. Dempsey may erupt into laughter or go into hiding when flash photography is used.
Rob Mullander (et signorum sonus artifex)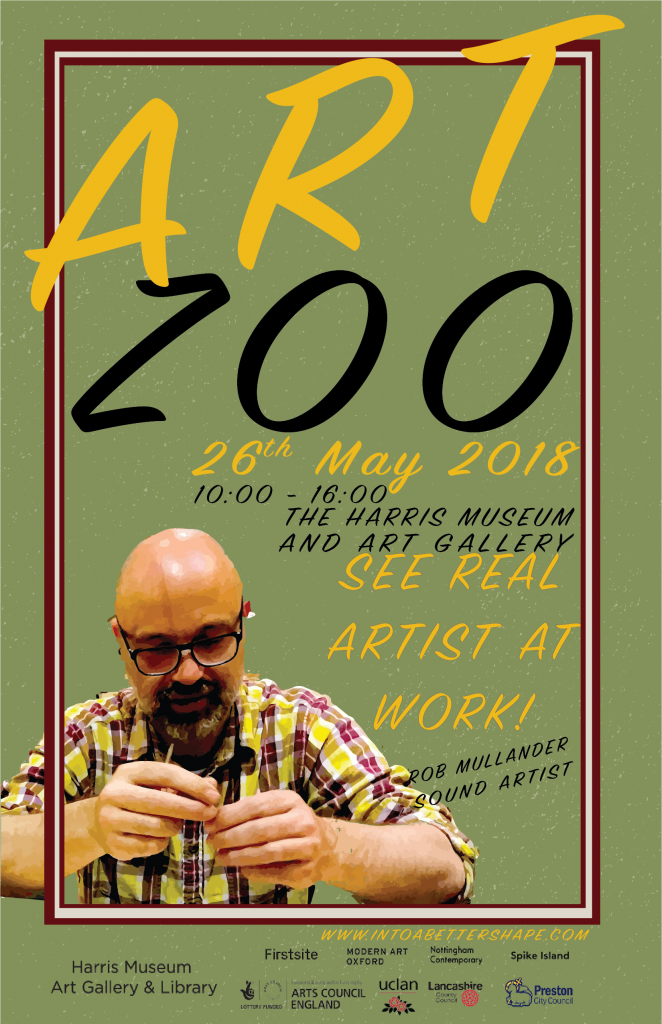 Rob Mullander is an interesting specimen to have in the Art Zoo, as he, like Tina, works between multiple disciplines. During the Art Zoo, he will be creating new work by taking rubbings of old or 'dead' technologies in an attempt to record something of them, accurate or inaccurate.
'Rob produces sculpture, sound, 2D, performance and moving image works when he can. Most recently he has performed Minor Conspiracy for adapted reed organ and eight breathing participants.'
Rob is a social artist and is happy to converse with Art Zoo attendees. He will be based in the Fine Art Gallery he is easy to approach and happy to talk to Art Zoo visitors. Why not ask him about misconceptions that artists face? Can artists decide if something is art or not? If a child could make it, is it a bad thing?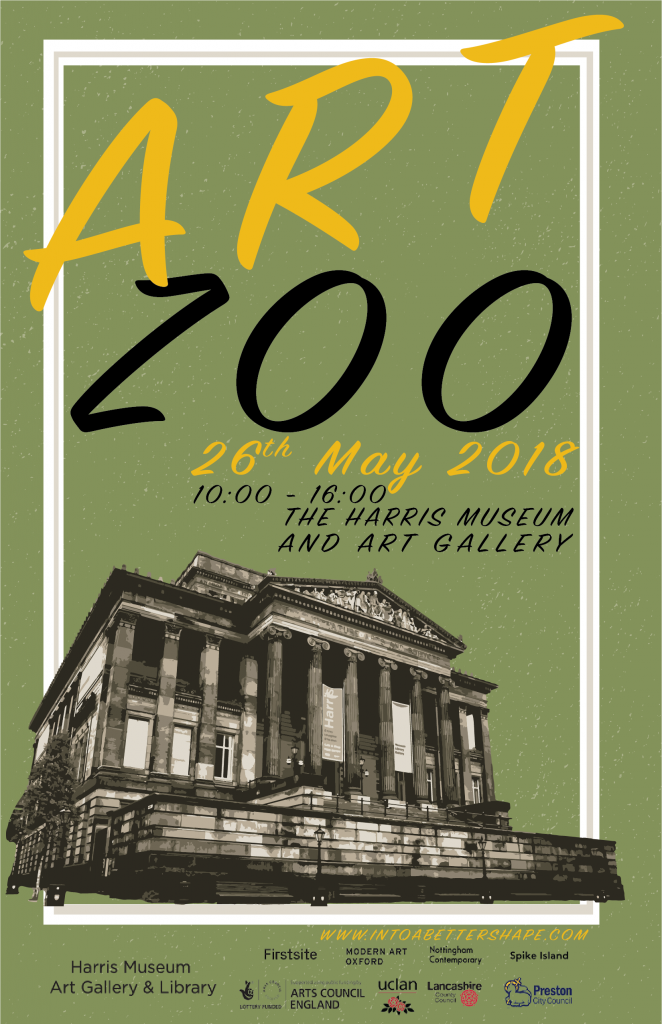 To read more about the Art Zoo Please click here.
To see more event happening in conjunction with Lubaina Himid's Hard Times, please visit Into a Better Shape.